Darwin's Super-Pooping Worm Spectacular
by Polly Owen, illustrated Gwen Millward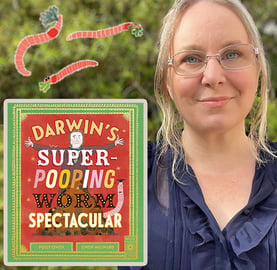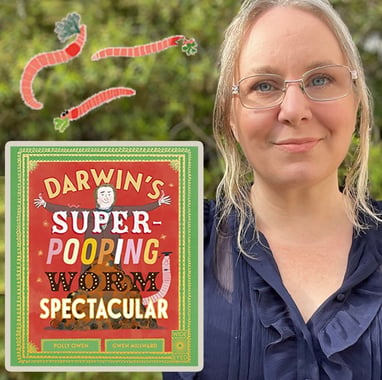 Summary
Learn the funny and fascinating story of Charles Darwin and the groundbreaking discoveries his love of the humble worms led to. The story of Darwin and the worms not only centres around the perennially brilliant subject of poo, it teaches children about a key historic figure, the food cycle and deductive scientific thinking.
Darwin's Super-Pooping Worm Spectacular supports the KS1 topics of nature, minibeasts and scientific thinking. Darwin observes, measures and records his findings on worms' diet, habits and senses through fun experiments. He explores the nutrients in soil that help plants to grow and explains how important plants and worms are to the human and animal food chain. Click here for worm facts
This book supports KS2 'scientific thinking'. Darwin demonstrates the importance of observing, measuring and recording data. He designed experiments, drew conclusions and wrote up his findings. It supports the Year 5 requirement to find out about "the work of naturalists and animal behaviourists", and the Year 3 topic of "recognising that soils are made from rocks and organic matter".
Set during the Victorian period, this book shows how worms were thought of as pests, that damaged the soil. Darwin made a difference to the world by showing how important worms were and changing people's opinions.
This book can help schools' support 'Sustainability Leads' by teaching sustainability and environmental issues from the ground up! Printed on 80% recycled paper and using sustainably managed forests, Wide Eyed Editions strive to make their books as sustainable as possible.
This narrative non-fiction biography is the perfect bridge between fiction and non-fiction, with facts narrated by the earthworms. Darwin demonstrates behaviours such as perseverance, passion, resilience, curiosity, determination, self-belief and a respect for the environment.
About me
I discovered Darwin's story after my daughter discovered a love of worms. I felt Darwin's research was of historic and scientific importance (as well as great fun!). And should never forgotten. With a degree in mathematics and statistics, STEM subjects are very important to me. And Darwin's 40 year study demonstrates scientific thinking at its best.